Discover more from This Week in Birding
Everything you need to know about birds.
Over 1,000 subscribers
The problems with mega events
NASCAR race fuels latest debate about Chicago's parks
News of the latest multi-day festival set for a Chicago park, this time Riis Park on the Northwest Side, had me thinking about Glenn Danzig. Yes, that's right, the burly frontman of the eponymous heavy metal act Danzig.
The 2017 edition of Riot Fest, held in historic Douglass Park, featured Danzig playing an early set, before the bigger acts like Nine Inch Nails. The crowd wasn't too into it that day—maybe it was the heat and bright sunshine—and Danzig had enough. "They were better in Detroit last night," he shouted.
It's never a good look to yell at one's audience. And maybe nothing boils our blood like a comparison to another Midwestern city. But here we were in Douglass Park, a gorgeous oasis designed in part by Jens Jensen, and Danzig was shouting at us. 
---
Chicago parks were once hallowed ground, starting with the lakefront. That seemed to change once Lollapalooza arrived for good in 2005. We had Taste of Chicago, the Blues Festival, and more in Grant Park, but Lollapalooza was on a much larger scale, taking up the entirety of the space from Randolph Avenue to Roosevelt Road, and requiring expensive repairs to lawns and plantings every year—a situation that continues to this day.
Riot Fest landed in Humboldt Park in 2012 and—facing neighborhood outcry—moved to Douglass Park in the North Lawndale community three years later. There it's remained ever since. Last year, though, area residents increasingly voiced concerns as the park remained closed throughout the summer. It wasn't just Riot Fest, it was Lyrical Lemonade Summer Smash, and Heatwave, too.
These events are inconvenient for the average citizen and take away precious green space during our all-too-brief Chicago summer. But they're a stress on nature, too. Longtime TWiB readers will recall the situation at Montrose Beach in 2019, when a multi-day music festival, Mamby on the Beach, was announced just days after a pair of Piping Plovers named Monty and Rose began attempting to nest nearby. They were the first pair of Piping Plovers to nest in the city since 1948, and the festival ultimately was cancelled. To paraphrase one of our plover advocates, the Park District "was the real enemy" that had allowed the festival.
Douglass Park has harbored some incredible birds through the years, totaling 208 species since 1997. Breeding species include Cooper's Hawk, Baltimore Oriole, Pied-billed Grebe, Eastern Kingbird, Barn Swallow, American Crow, Blue-Gray Gnatcatcher, Common Grackle, and Gray Catbird. The park recorded the first continental record of a South American flycatcher called the Small-billed Elaenia in 2012. With throngs of people, bright lights, and thundering speakers, these music festivals undoubtedly have an impact on the birds of Douglass Park.
---
The issue of mega events in parks has reared up again because of the first NASCAR Chicago Street Race, which is set for Grant Park on July 1-2. Several aldermen have said they were unaware of the event before the mayor announced it last year. That led to an ordinance that now requires the Chicago Park District Board of Commissioners to approve multi-day events. At recent Park District Board meetings, a parade of speakers from neighborhoods like Little Village and North Lawndale have spoken out about the events in the interior parks. Softball players are up in arms about the loss of Grant Park's diamonds for most of the spring and summer. Since the events mostly cater to out-of-towners, it's hard to find anyone who's advocating in favor of them. And at $269 for a NASCAR general admission ticket, it's easy to perceive an economic if not social divide between the intended audience and the vast majority of Chicagoans. Riot Fest crowds are overwhelmingly white, and Douglass Park is surrounded by communities of color still recovering from actual riots that took place in the 1960s.
In Chicago, when you've lost the softball players it's time to re-evaluate things. In all seriousness, I can't find evidence as to whether Riot Fest has been approved for Douglass Park this year, though I see 2023 dates online (if anyone knows otherwise, please leave a comment). Heatwave has moved to Northerly Island, and Lollapalooza is again set for Grant Park. Lyrical Lemonade's website hasn't been updated. 
The animus and dislocation these events cause—not to mention the impact on people and birds—can't be worth whatever they generate in attention and revenue. Sure, Chicago needs to market itself, but there have to be alternatives to stock cars doing doughnuts around Buckingham Fountain.
I'd pay for Glenn Danzig singing Elvis ballads a cappella in Douglass Park. But until then, all we can do is watch out for the next proposal for parkland that by right belongs to the people of this city.  
This Week in Birding is a reader-supported publication. To support my work, consider taking out a paid subscription.
---
Watch the trailer for FLUDDLES
Earlier this month, we released the trailer for the new documentary, FLUDDLES, about the birds of Illinois wetlands. Sometimes simply described as "big puddles," fluddles appear in the spring and fall and provide habitat and forage for a diversity of waterfowl and shorebird species. FLUDDLES takes viewers on a journey to these secret, oft-fleeting wildernesses in a time when Illinois has lost 90% of its original wetlands. FLUDDLES features those who enjoy the beauty of wetlands while showcasing the movement under way to construct more wetlands, which provide critical habitat, reduce flooding and erosion, and help to ensure healthier waterways.
FLUDDLES is a follow-up to THE MAGIC STUMP and the second in Turnstone Strategies' Prairie State film series. You can sponsor this project and get your name in the credits of the film by clicking here.
TWiB Notes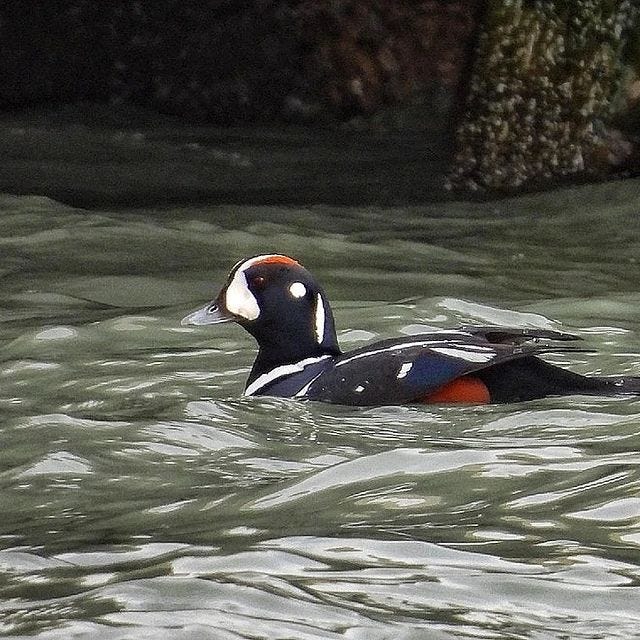 A male Harlequin Duck has been gracing the Illinois waters of Lake Michigan, at places like North Point Marina and Illinois Beach State Park. This bird of fast-moving mountain streams and rocky coastlines is a rare visitor to Illinois….Houston Audubon Society is mounting an effort to protect Bolivar Flats, on the Gulf coast near Galveston, from a planned housing development. The locale is a critical site for multitudes of wintering shorebirds, including Piping Plovers…..A Eurasian Eagle-Owl is wowing New Yorkers after it escaped from Central Park Zoo. "Flaco" has taken to his newfound freedom…..An enormous Steller's Sea Eagle is being seen for a second winter on the coast of Maine. The species' native range is East Asia….Local environmental organizations are pushing for new parklands along what might have been a highway right-of-way in Lake County. There had once been a planned extension of Route 53 north of Lake-Cook Road…..WTTW's Patty Wetli took an in-depth look at Orland Grassland in southwest Cook County. The site's part of a string of grassland preserves that provide breeding habitat for key species including Bobolinks and Henslow's Sparrows….Chicago Ornithological Society has honored volunteers in the LaBagh Woods avian-based restoration with its latest Order of the Buckthorn awards.
If you liked this post, you also might like…